Pere Augé, – a lawyer, tax advisor and patent & trademark agent – has successfully led a professional office specialising mainly in legal and tax matters, but also offering two additional and unique specialties: intellectual property, where it is a leader in registration and legal advice regarding patents and trademarks; and consulting and management in immigration and relocation services, with a team that is now an unquestionable benchmark in Andorra.
A committed proponent of a new and competitive economic and fiscal model based on harmonisation with Europe, transparency, liberalisation of foreign investments and an attractive tax differential, he has put together an experienced team of professionals devoted to providing service both to individuals and companies already established in the Principality, as well as to new residents and investment initiatives, all attracted by the unquestionable advantages offered by Andorra and who require the most comprehensive services to successfully bring their new projects to fruition.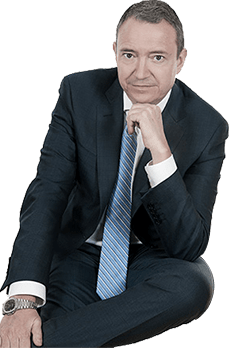 Aware of the growing influx of new stakeholders into Andorra as well as its cultural diversity and their need to adapt to it, his team has evolved the idea of a comprehensive service by incorporating a support protocol to enable the most complete integration of these new citizens to the country at all levels.
Pere Augé is a member of the Col·legi d'Advocats d'Andorra (Lawyers' Association of Andorra), a member of l'Associació d'Assessors Tributaris i Fiscals d'Andorra (the Association of Tax and Fiscal Advisors of Andorra) and of the Associació de Mandataris Acreditats del Principat d'Andorra (Association of Accredited Agents of the Principality of Andorra) (Patents and Trademarks). He is also a member of the Empresa Familiar Andorrana y de la Confederación Empresarial Andorrana (Andorran Family Business and the Andorran Business Confederation) (CEA), where he chairs the Comisión Marca Andorra (Andorra Trademark Commission), as well as being part of the Taula Publico-Privada Marca Andorra (Andorra Trademark Public-Private Commite). In addition, he regularly collaborates as a columnist in the digital newspapers Ara.ad and El Periodic.ad and participates fortnightly on an economic edition of the Andorra National Radio, in addition to his occasional collaborations with other media. Finally, he is a regular speaker at events mainly aimed at the international promotion of the new economic and fiscal model in Andorra and the new country brand.
At Augé Legal & Fiscal the client is the undisputed protagonist and the main beneficiary of all our efforts and devotion. This translates into a swift, effective and honest response to any issue that may be raised. We view customer service to be synonymous with providing solutions. We are inspired by values such as loyalty and transparency, effort and a spirit of improvement, confidentiality, teamwork, solidarity, quality of service, and above all, the feeling of belonging to a group and a country: Andorra. These values are present in every step we take, where we are always ready to find the best solutions for our clients and to assist them with a clear commitment to a fully comprehensive service and their full integration within their new country.